How many of my readers could turn off the electricity to your home, without looking it up first on what a former colleague of mine would refer to as, "the Julliard school of YouTube"? How many of you would feel confident doing it after looking it up?
When we bought our first home, my husband and I did two really important and likely very annoying things: 1) we asked the inspector about 1,000 questions about the power, wiring, and electrical systems in the home, which he gladly pointed out to us. The second important thing we did, and were grateful to have access to, was ask our parents to help us learn a little more about these systems, and what we might need to do to care for them.
To this day, I regret not having taken a home-economics class in high school, because I would imagine home maintenance is covered as at least part of that course, and it's safe to say we were complete novices when we moved in!
So to help my fellow home owners, or anyone that might be curious about home-ownership in the future, this week we'll discuss the electrical components of your home, starting today with the Electric Meter.
There are a couple of important components within every home that measure energy consumption, and/or allow you to power your light-switches and electrical components: the Electricity Meter, and the Breaker Box. If you know how these work then you're ahead of the game, but for a quick refresher on Electric Meters or how to read them, please check out the following link, as well as the photos below: https://energyeducation.ca/encyclopedia/Electric_meter .
Now that you know what it is, let's take a look at how to read an Electric Meter (check out the link above for guidance, but I've pasted the main steps below):
"Steps
Start at the far right dial. Record the digit that the dial is on, or if it is between two digits record the smaller of the two.
Now read the dial to its left, again recording the smaller of the two if it is between two digits.
Continue until the far left dial is recorded, then read the recorded number normally."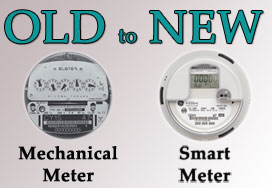 This is the same process your energy company rep will take in reading your meter, so it's a good practice to compare your readings to what you're seeing on your monthly bill from time to time, just to make sure you're on the same page about the amount of energy you're consuming.
Sometimes your electric meter will look differently in the one featured above. No worries there! It may be that your meter is newer, or older, or simply a different model all together. Take a look at the following link to learn a little more about these electric meters, how to read them, and how to determine whether or not an upgraded might be needed in your home: https://www.citizensutilityboard.org/five-things-need-know-new-electric-meter/.
We will build on this foundational knowledge to discuss Smart Meters, Net Meters, and Data Monitoring in subsequent Blog posts this week– you won't want to miss out!