I wasn't originally planning to write a post about Blackouts in 2022 for several reasons:
I thought that the polar vortex of 2021, and subsequent snow-pocalypse, was in fact a once-every-10-years type of event as climatologists had predicted, and believed that the weather would sort of go back to "normal" – droughts, and only a few days below freezing.
Given last year's grid debacle, subsequent deaths, and the PTSD we all now face as a result, I didn't want to contribute to any unnecessary panic.
Perhaps it's naïve, but I really thought that the state's leadership would do something – anything – to "fix the grid" as a contingency plan just in case we experienced any more freezes.
Unfortunately however, given what we discussed in previous blogs (https://suntexllc.com/texas-senate-following-the-bills-where-are-we-now/), it seems that we the people of Texas are the first and last lines of defense against the brutal cold we are already experiencing this winter, and there are likely more freezing days to come. Thus, I'd like to provide a few easy steps to winterize your own home prior to experiencing freezing temps, and just in case the grid fails again this year and we experience "rolling blackouts," so you're better prepared to handle it.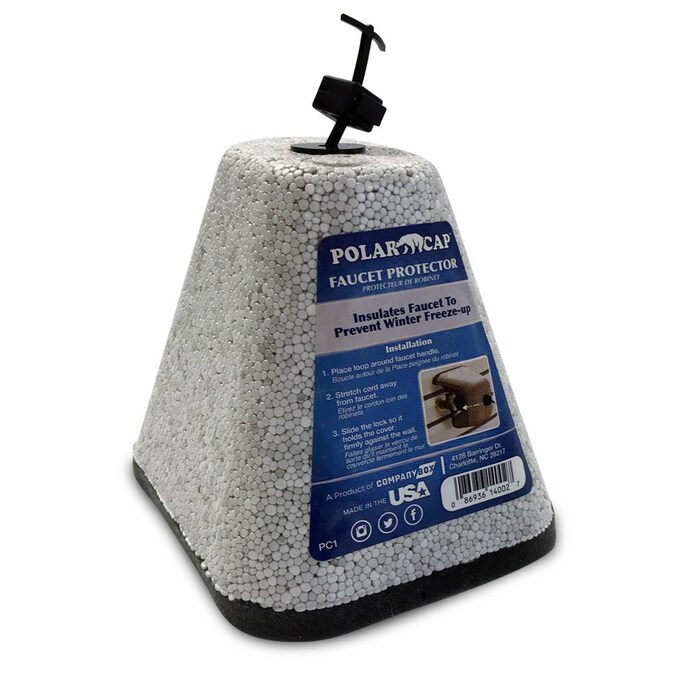 Snowstorm/Blackout Contingency Planning for the Outdoors 
First, let's focus on the outside prep – since you'll want to do this first, preferably before the storm hits. You want to start by covering any outside water spigots with foam covers – you can find these at your local hardware store (assuming they're in stock), or online if you plan far enough ahead. Check out one example here: https://www.lowes.com/pd/CompanyBox-Styrofoam-Faucet-Cover/1000651583, also featured in the photo on the left.
Of course, if the hardware stores run out (like they did last year when my husband and I finally got around to looking for them), you can always cut up a pool noodle and tape it around the faucet as a cover as we did, and you might even have some left over to give to a neighbor or store for next year.
Now, let's consider the garden. I wrote a post not too long ago which explained how to prep your garden for freezing temperatures – check it out here: Home Gardens and Cold Fronts. For now I'll simply sum it up as follows:
Plan to bring in any potted plants since you can do so, and likely they'll be safer inside – plus these tend to be a little more temperamental in the cold.
Cover any freeze-intolerant plants such as citrus trees or cacti with tarp – or if you're a hoarder like me, you can also use old shower liners. Just be sure to secure them with a rock or two so they don't blow away (the more rocks you add to seal the sides, the better, since you're trying to create a mini-greenhouse effect.
If you're worried about an icy driveway, add sand instead of salt – it has similar properties, and should keep your driveway ice-free, however sand is much safer on your garden since excessive salt will kill most plants
Snowstorm/Blackout Contingency Planning for Indoors
Now that you've prepped the outdoors, it's time to start looking inward. No, I don't mean mindful meditation – though it couldn't hurt – instead I'm referring to winterizing your home. Hopefully you didn't go to the hardware store without reading the whole blog, because while you're there picking up foam covers you may also want to grab some weather-stripping for your exterior doors. This product can take on various forms, at varied prices and installation processes, so my recommendation would be to measure the door frame to see how much you might need, and then check out the various types online first to determine your preference.
Weather-stripping is wonderful because it's a cost-effective way to make sure your door seals properly – trapping heat inside the house and saving you money and energy when heating your home. Similarly, when your home has proper insulation (in the walls, attic, and crawl spaces), you can trap heat more effectively inside (and air-conditioning in the summertime), again saving you money and energy in controlling the temperature indoors.
I'll only mention this here, and shamelessly plug SUNTEX here since we can help you out and provide a free quote, however the installation process does take more time – so you'll want to start planning for this project months ahead of a winter storm or a scorching summer day. That said, please do give us a call with any questions on insulating your home!
In the direst of circumstances, when a blackout does occur, you'll want to take a few extra emergency planning steps, and the more you plan ahead, the easier they will be to manage:
Cover your windows with blankets and/or cardboard and/or foil to trap heat inside.
Keep candles and lighters/matches somewhere you can easily locate them in the dark.
If you have a fireplace, make sure you've kept enough firewood warm and dry to last until the outdoor temperature rises again – keep in mind that you can experience hypothermia in temperatures above freezing, especially if you get wet, so it's important to stay warm and dry during a freeze (check out the following Mayo clinic link for symptoms of hypothermia and when to seek medical help: https://www.mayoclinic.org/diseases-conditions/hypothermia/symptoms-causes/syc-20352682#:~:text=Hypothermia%20is%20a%20medical%20emergency,95%20F%20(35%20C).
Dress in baggy and tight layers, alternating with each layer of clothing, and tucking things in where possible – for example, if you start with leggings and a shirt, then add socks pulled up over them, then a t-shirt tucked into sweatpants, and finally a sweatshirt on top – you will be much warmer than had you just warn the sweats.
If you have a car, don't forget you can always turn it on and sit in it for a couple of hours while you warm up and charge your phone (assuming you have a full tank of gas of course), however DO NOT sit inside a car in your garage or you will risk carbon monoxide poisoning – which is odorless and colorless, and very hard to detect until it's too late (here's what the CDC has to say about it: https://www.cdc.gov/co/faqs.htm).
Now, if there is a burst pipe in your area and the water gets shut off to avoid flooding (as can happen in freezing temperatures if pipes are not properly winterized), don't panic! There are a few things you can do that don't include evacuating to a hotel:
Store some potable water ahead of time or pick up a few gallons from the store just in case.
Capture rainwater/snow in a large pot and boil it to ensure you kill any bacteria (if you're familiar with the SODIS method of water purification then congrats! However, I would not recommend this strategy in the winter, particularly during a storm, since you may not get enough sunlight to purify the water naturally).
Store snow in your bathtub to have on-hand for bucket-baths and cleaning dishes.
Snowstorm/Blackout Contingency Planning for the Over-achievers
Now, if you really want to prepare for a blackout or a water shutoff, there are a few other things you might want to consider doing before the freeze sets in:
Do the laundry! Your washer and dryer require enormous amounts of energy (not to mention the water needed to run your washing machine), so be sure to do this ahead of time so that you're not using excessive power while trying to keep your heat on. If you don't get to this before the storm hits, just wait until the temperatures increase again or you might be contributing to unnecessary rolling blackouts.
Do the dishes! This one seems fairly straight forward since you're already doing this daily, however it's much better to have a clean sink to work with if the water gets shut off since you'll need less rainwater/snow to clean dishes during the outage. It's also a nice mental reprieve for an already beleaguered person who's trying to survive the cold.
Keep in mind that food in your fridge will go bad if you continually open and close the fridge while the power is out, so if it's cold enough, you can simply put your refrigerated items outdoors until the power returns, or use a cooler packed with snow.
For pet owners: take your dogs on a long walk the day before the storm hits! This is a real pro-tip since not many people probably think about this until their dogs are running around the house with all their pent-up energy from being indoors. You probably won't want to drive to the park or go on a long run in the sleet/snow, so if you wear them out ahead of time, chances are they'll be happy to sleep for a day or two while you're running around trying to keep the house warm.
While these steps are helpful, you may still need to leave your home and go to a hotel with power (one near a hospital, for example, which is usually prioritized by grid operators during rolling blackouts) if you have medical devices that require power, or if you don't have a car you can seek refuge in.
You might even be able to call your insurance provider to see if they can help recoup the cost if for example, power lines go down in your neighborhood or the water is shut off for extended periods of time. Just use caution and common sense to decide when to go, since the roadways could be dangerous if you wait too long, or you could end up wasting money if the power does not go out and your water stays on. Do what makes sense to keep yourself safe and warm.
The most important piece of advice I could give you is Don't Panic! You are far more capable than you think, and if you follow the steps outlined above, while you may not be thriving for a few days, you will survive, and especially in Texas, you'll be back in hot weather again before you know it. If you have any additional tips, please do feel free to share them in the comments below. In the meantime, stay warm, stay dry, and enjoy the snowy scenery!